Bull Taco - Cardiff by The Sea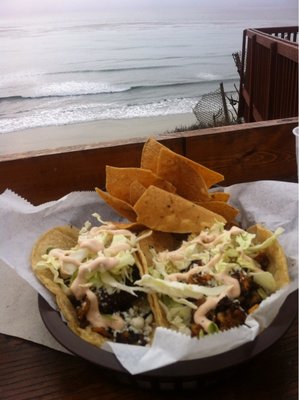 "Inauthentic Mexican", that is what Bull Taco is all about. The origional location first opened in the San Elijo State Park camp store in 2008 with on of the best views in Cardiff. Since then they have opened up several other locations across San Diego.
Local Tip: There sure to be a line in the summer, but have the patio all to yourself in the winter months.
____________________________________
Mon 8:00 am - 5:00 pm
Tue 8:00 am - 5:00 pm
Wed 8:00 am - 5:00 pm
Thu 8:00 am - 5:00 pm
Fri 8:00 am - 5:00 pm
Sat 8:00 am - 5:00 pm
Sun 8:00 am - 5:00 pm
_____________________________________
760-635-3595 www.bulltaco.com
2050 S Coast Hwy 101
Cardiff, CA 92007
Takes Reservations No
Delivery No
Take-out Yes
Accepts Credit Cards Yes
Good For Lunch
Parking Street
Bike Parking Yes
Wheelchair Accessible Yes
Good for Kids Yes
Good for Groups Yes
Outdoor Seating Yes
Dogs Allowed Yes
Caters Yes